Novell Gets Patent Payoff From Microsoft

By: David Utter
2006-11-08

Much was made of the Microsoft and Novell collaboration deal being about boosting the interoperability of Windows and Linux, but make no mistake, this arrangement has been all about the patents.



---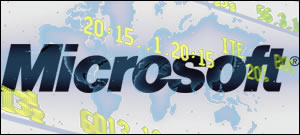 They felt The Fear in Redmond. Novell (NOVL) owns some key intellectual property. Had they chosen to press some very fundamental issues with Microsoft (MSFT), the legal battle over operating systems and word processing technology could have been brutal.

Imagine the fun Microsoft's lawyers would have had on the cusp of the volume license customer release of the Vista operating system and Office 2007 if Novell's attorneys had stopped by the day before launch with cease and desist orders.

Their will be no legal go-round with the two companies, one the dominant force in technology on the globe, the other a name that used to be the standard in networking an enterprise. Microsoft upset the Novell apple cart when Windows NT came out with its network capabilities.

For years Novell has watched Microsoft get richer while its fortunes were in decline. Then Novell made the move to pick up SuSE for its Linux distribution. Instead of taking on Microsoft, they would compete with Red Hat for enterprise Linux customers.

Interoperability tends to make the list of "wants" in a heterogeneous computing environment. Making nice with Linux would make a lot of admins happy; a lack of interoperability has been Microsoft's frequent response to such requests (do I need to go any farther than how Microsoft implemented Kerberos here?)

Time flies and perceptions change. That led Microsoft and Novell to their recent announcement. Virtualization, web services, and document format compatibility would get the benefit of collaboration between the two companies. Users would enjoy better management and interoperability between Linux and Windows.

Novell revealed the important number in a SEC 8-K filing: $348 million. They get a $240 million payment up front for SuSE Linux subscription certificates they can resell.

Another $108 million flows Novell's way as part of the agreement that neither company will assert its patents against the other company. That looks like a one-sided deal, as Novell's payment obligations over the five-year period of the deal will only come to $40 million.

Forbes writer Dan Lyons commented the deal constitutes a surrender by Novell. "After two years of struggling, Novell holds only 20% market share of commercial Linux shipments," he said. "Red Hat commands virtually all of the rest."

Lyons doesn't see Microsoft resellers generating a lot of business for Novell, even though Windows customers small and large perceive a need for the interoperability this deal can deliver. For Novell, the agreement may be their future. If it gets SuSE into server rooms instead of Red Hat (or Oracle with its Unbreakable Linux), they could stave off following late founder Ray Noorda into the next great adventure.

That's a lot of faith to put in Microsoft.

---
Tags: Novell, Microsoft

Add to

Del.icio.us |

Digg |

Reddit |

Furl

Bookmark IFN -
---
About the Author:
David Utter is a staff writer for InternetFinancialNews and WebProNews covering technology and business.
---
---