Intel May Cut 10,000 Jobs

By: David Utter
2006-09-01

After reporting some disappointing numbers in its most recent quarterly earnings announcement, Intel CEO Paul Otellini vowed that the company would find ways to improve.



---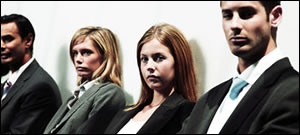 The biggest potential impact that Intel (INTC) will see from its restructuring could be massive layoffs throughout its global operations. Thousands of jobs may be eliminated after the Labor Day holiday.

CNET reported that ten percent of the Intel workforce could be wiped out as a top-down analysis of the company's operations is completed.

Many of those cuts could come in the marketing division. Sources familiar with the matter told CNET that Intel's ratio of marketing to sales people was far too high when compared to other firms.

In April, Otellini faced criticism during the company's annual shareholder event about drop-offs in Intel's performance. One person suggested that it might be a good idea for Intel to start those job cuts in the executive offices.

Intel did eliminate 1,000 manager jobs in July, from divisions around the world. One analyst cited in an InternetNews report, Nathan Brookwood of Insight64, wondered where Intel would find 10,000 positions to eliminate:



"Intel's the kind of company that regularly looks at everybody's performance and winnows out the underperformers. So the people who've been there a while have been pretty solid citizens who make solid contributions," he said.

"You can't find 10,000 people just punching a clock and not doing much at Intel."


The difference between Intel now and a year ago has been the rise of hated rival Advanced Micro Designs (AMD) as a competitor. AMD steadily gained share in the lucrative server market, and has bedeviled Intel with aggressive pricing as well as an antitrust lawsuit over Intel's business practices.

---
Tag: Intel

Add to
Del.icio.us |
Digg |
Yahoo! My Web |
Furl

Bookmark IFN -
---
About the Author:
David Utter is a staff writer for InternetFinancialNews and WebProNews covering technology and business.
---