Stock Options Fallout Hits Tech

By: David Utter
2006-08-11

Former Brocade executives pick up indictments, Juniper plans to restate earnings and faces a dellisting, and Google disclosed it will pare back option grants in favor of cash.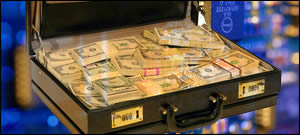 The ever-broadening federal investigation into stock options issued by technology companies during the height of the pre-2000 dot-com boom has hit the tech industry like the fist of an angry god. Names of well-known and lesser known companies have been bouncing in and out of the news in a flurry of news on their internal investigations and earnings restatements.

Federal prosecutors served notice that they were serious about uncovering backdating scandals when they hauled former executives from Brocade (BRCD) into court. The Department of Justice revealed the indictments returned by the grand jury against the two defendants :



Gregory L. Reyes, the former CEO, President, and Chairman of Brocade Communications Systems, Inc., and Stephanie Jensen, its former Vice President of Human Resources, were charged in a twelve-count indictment today with a scheme to backdate stock option grants to give employees favorably priced options without recording necessary compensation expenses.

The indictment charges both defendants with eight counts each, including charges of conspiracy to commit securities fraud, securities fraud, mail fraud, making false statements in SEC filings, and falsifying books and records. Mr. Reyes is further charged with four counts of making false statements to Brocade's auditors.


Juniper Networks (JNPR) is in the middle of an internal investigation into its stock option granting practices. The company announced it will need to "restate historical financial statements to record additional non-cash charges for stock-based compensation expense related to past option grants."

The firm filed a Form 8-K with the SEC, and noted "the financial statements and all earnings press releases and similar communications issued by the Company relating to periods beginning on or after January 1, 2003 should therefore not be relied upon." They also face delisting by Nasdaq for missing the deadline for filing the 10-Q quarterly report with the SEC.

Google (GOOG) filed its 10-Q on schedule, with some changes noted regarding the granting of stock options. Part of the summary section in the filing noted cash-based compensation per employee will likely increase.

The company also anticipates a possible decline in operating margin as it puts more money into infrastructure to support its myriad services with more hardware. Google also appears to be paring back its employee-related expenses as they will continue to employ "a significant number of temporary employees."

---
Tags: Brocade, Juniper Networks, Google

Add to
Del.icio.us |
Digg |
Yahoo! My Web |
Furl

Bookmark IFN -
---
About the Author:
David Utter is a staff writer for InternetFinancialNews and WebProNews covering technology and business.
---