Uber Google: Net Income Up 60 Percent

By: David Utter
2006-04-21

A revenue surge of 79 percent boosted the search advertising company's first-quarter profits, and shares have traded at 447.30 in after hours trading, well over the close of 415.00.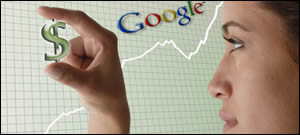 Smiles were plentiful in Mountain View as Google (GOOG) reported a tremendous uptick in its financials, and the market responded by pushing shares in after hours trading within 28 dollars of their 52-week high of 475.11.

Analysts estimated $1.44 billion in revenue, and Google ended up reporting $2.25 billion for a 79 percent increase. Net income for the period hit $592 million for earnings of $1.95 per share.

"Google had an exceptional quarter with strong growth and profitability, from both Google properties and the network," said Eric Schmidt, CEO of Google. "We are driving this growth through investments in our infrastructure and our people, product innovations that attract new users, and relationships with advertisers and partners around the world.

"The strength of our business model gives us the opportunity to invest in our business, allowing us to maintain and grow our market leadership."

Google plans to spend a lot on capital expenditures:



We expect that the growth rate in capital expenditures in 2006 will be substantially greater than the revenue growth rate for the year. We expect the majority of investment to be focused on IT infrastructure including servers, networking equipment, and data centers, as well as real estate and campus facilities.


As a few companies have done recently, Google included the impact of stock-based compensation expenses with its net income. For the quarter, those totaled $77 million. Google also noted that its cash pile of $8.43 billion does not reflect the AOL investment of $1 billion Google made in April. Nor does it include the $2.07 billion Google raised in its third stock offering as it joined the S&P 500 index in early April.

Google did make a minor product change, renaming its Google Local service back to Google Maps. Evidently the name change caused some confusion with users, who kept referring to Google Local as Maps when the two services merged.

In other earnings news, business application software provider SAP (SAP) enjoyed software revenues of $650 million, an increase of 22 percent from the same period in 2005. Its net income was $348 million, or $1.12 per share.

"We are pleased to say that we are off to a good start in 2006 with continued strong growth in software and product revenues for the first quarter," said Henning Kagermann, CEO of SAP. The company believes revenues from the US will grow at a faster rate than other markets, despite competition from Oracle in this segment.

However, investors were not as pleased that profits for the German software giant did not meet the lofty expectations of German market analysts. Shares moved down 1.06 to 55.81 in trading after the company posted its earnings figures.

---
Tags: Google, SAP

Add to | DiggThis | Yahoo! My Web | PreFound.com

Bookmark WebProNews:

---
About the Author:
David Utter is a staff writer for InternetFinancialNews and WebProNews covering technology and business.
---
---