EBay Punished On Earnings Drop

By: David Utter
2006-04-20

Despite a 35 percent year-over-year increase in revenue, eBay shares fell 2.02 in after hours trading due to decrease in net income of 3 percent.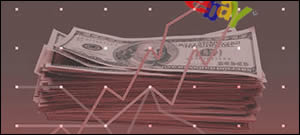 The first fiscal quarter of 2006 represents eBay's (EBAY) first where its financial results include stock-based compensation expenses. That $58.3 million expense (net of tax effects) dropped eBay's net income to $248.3 million, or 17 cents per share.

Revenues reached $1.39 billion for the quarter. EBay had provided guidance where the high-end forecast $1.38 billion in revenue, and 15 cents per share in earnings.

Company CEO Meg Whitman lauded the performance of eBay and its other companies. "Q1 was an excellent quarter for the company, with strong growth across our portfolio of businesses," said Whitman. "eBay, PayPal and Skype are successful businesses on their own, and together they create additional opportunities for innovation and expansion."

eBay said it has confirmed registered users numbering nearly 130 million. First quarter figures showed 75.4 million users were active on eBay as bidders, buyers, or sellers. The company also had a record number of listings for a quarter, with 575.4 million.

Gross merchandise volume (GMV) was $12.5 billion, representing the total value of all successfully closed items on eBay trading platforms. The company's "Buy It Now" feature contributed about $4.3 billion of that total.

The PayPal payment processing unit, presently the focus of interest of an IRS investigation into offshore tax evasion, had 105 million accounts at the end of Q1 2006. PayPal processed a record $8.8 billion in payments for the period.

EBay also noted Skype had 94.6 million registered users of the service. When acquired, it was reported Skype shareholders could earn a $1.5 billion on top of the $2.6 billion eBay paid for Skype, should the service hit certain financial targets. Those have not yet been disclosed.

In other earnings reports, Apple (AAPL) continued to ride the iPod media player to big profits. Apple shipped 8.5 million iPods and 1.1 million Macintosh computers during the quarter.

Apple delivered revenue of $4.36 billion and net income of $410 million, or 47 cents per share. Those results compare to revenue of $3.24 billion and a net profit of $290 million, or $.34 per share for the same period in 2005.

"Our transition to Intel processors is going very well, and our music business just experienced another quarter of outstanding growth," said Steve Jobs, Apple's CEO. Meanwhile, Apple CFO Peter Oppenheimer said the company was "very pleased to report the second highest quarterly sales in Apple's history."

Oppenheimer also provided guidance for Apple's next quarter:



"Looking ahead to the third quarter of fiscal 2006, we expect revenue of about $4.2 to $4.4 billion. We expect GAAP earnings per diluted share of about $.39 to $.43, including an estimated $.04 per share expense impact from non-cash stock-based compensation, translating to non-GAAP EPS of about $.43 to $.47."


One wildcard in Apple's future could be its lawsuit and countersuit filed by Burst.com over streaming and download technologies used by Apple in the iPod, iTunes, and QuickTime. Microsoft was compelled to settle with Burst for $60 million to avoid an infringement trial, and some industry observers believe Apple will have to do the same, but possibly for $200 million.

Intel (INTC) has had a case of heartburn caused by Microsoft's delay in releasing the Windows Vista operating system. Originally scheduled for the 2006 holiday season, Microsoft pushed the consumer release into 2007, a move that likely killed significant demand for Intel processors leading into the end of the calendar year.

Profits for Intel plunged 38 percent for the post-holiday quarter. The company met analyst estimates of $8.9 billion in revenue and earnings of 23 cents per share on net income of $1.3 billion in the period.

Although Japan proved strong, with the region adding a billion-dollar quarter to Intel's numbers, all other regions fell below company expectations. Intel also noted some product trends that impacted its results:

• Total microprocessor units were lower. The average selling price (ASP) was slightly lower.
• Chipset, motherboard and flash memory units were lower.
• Application processor units for products such as cellular phones and PDAs were lower.

Processor competitor AMD (AMD), involved in an antitrust suit against Intel, had carved into Intel's market share in the past two quarters. During today's conference call, Intel CFO Andy Bryant said Intel held onto share during this quarter.

---
Tags: eBay, Apple, Intel

Add to | DiggThis | Yahoo! My Web | PreFound.com

Bookmark IFN -
---
About the Author:
David Utter is a staff writer for InternetFinancialNews and WebProNews covering technology and business.
---
---