SalesGenie.com, GoDaddy.com Damage Brand...
By: Manoj Jasra
2008-02-08

... at Super Bowl. comScore recently published the results of their annual survey which measures the results of consumers' thoughts on the...

...Super-Bowl ads. Hyundai and Budweiser scored as the most favorable advertisers this year, but I'd like to look at some of the brands which hurt their reputation the most this year (SalesGenie.com and GoDaddy.com).

SalesGenie.com had the highest brand damage score, but still managed a small net improvement score. Perennially controversial Super Bowl advertiser GoDaddy.com also drew a high negative response with its racy ad featuring race car driver Danica Patrick.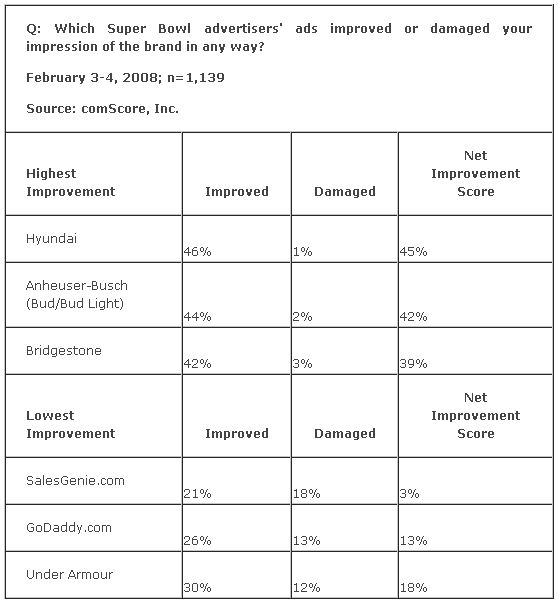 Comments

Tag: comScore super bowl ads


Add to

Del.icio.us |

Digg |

Reddit |

Furl
---
About the Author:
Manoj Jasra has been in the search marketing industry since 2002 with Enquiro Search Solutions. His role as the Director of Technology at Enquiro involves him developing strategic relationships with technology vendors, overseeing web analytics and designing cutting edge solutions for clients. Manoj's background in software development and experience in search marketing/web analytics gives him the ability to provide strategic consultation throughout the entire online marketing process.

Manoj's blog, Web Analytics World focuses on insight in Search Marketing, Blogging, Web Analytics and Technology; it is also one of the top read web analytics blogs. You can frequently find Manoj's writing at popular marketing publications.
---
---